As we continue to settle into the new normal of working from home and homeschooling tomorrow's leaders, it is important for everyone in the community to have time to breathe a breath of fresh air. The ability to complete work outside offers numerous health benefits, such as improved mood and decreased stress. To promote a healthier lifestyle for those in your community, consider adding solar charging stations.
Solar Charging Stations Keep Technology Powered
While many have a number of devices that allow them to complete work assignments or learn new material online, it can be difficult to work or study outside for a long period of time. Our technology simply does not have the ability to hold a long enough charge to complete all of the tasks that are required.
Solar charging stations allow devices to charge on the go and extend battery life. Individuals working or studying via their tablets or phones can take a much-needed break from the indoors without feeling like they will be rushed to complete tasks when they arrive home.
Increase Attendance Duration
In addition to providing a chance to get out of the house while remaining productive, solar charging stations can increase the amount of time individuals stay at your facility. People of all ages can easily forget to charge their phones before leaving the house. Rather than leaving early, they can simply sit down and charge their phone while at your facility.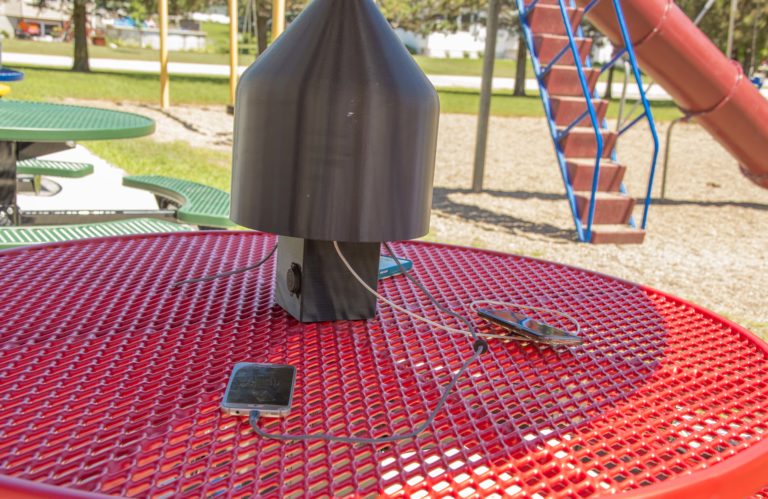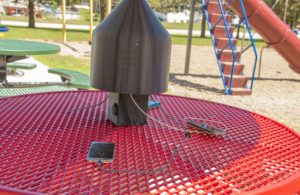 iOS and Android Friendly Solar Charging Stations
It has never been easier to solve multiple problems at one time for your community. Individuals can breathe some fresh air, complete a few tasks on the go, and keep their devices charged. Regardless if your community is pro-iOS or team Android, each solar charging station comes with the ability to charge devices of various operating systems. Contact us today to place your order!