Other grills need to be replaced more often due to poor quality.
Rusts more easily due to a painted coating (rather than enamel finish).
No formed ash lip on the front on the firebox to retain hot coals from falling on the user.
Metal handles get hot and are not user-friendly.
No water drainage holes in the firebox lead to pooling and ultimately rust.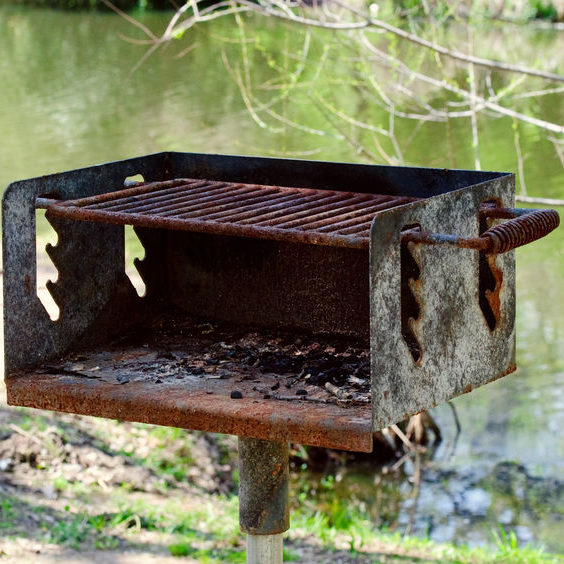 OUR BEST SELLING GRILL! The tough SB16 pedestal grill is built to stand up to heavy usage and last for years. It is the perfect choice for:
With an outstanding DURABLE DESIGN and clever design elements like DRAIN HOLES and a THEFT-RESISTANT firebox, there is virtually NO UPKEEP REQUIRED to keep it looking and working great for countless cookouts.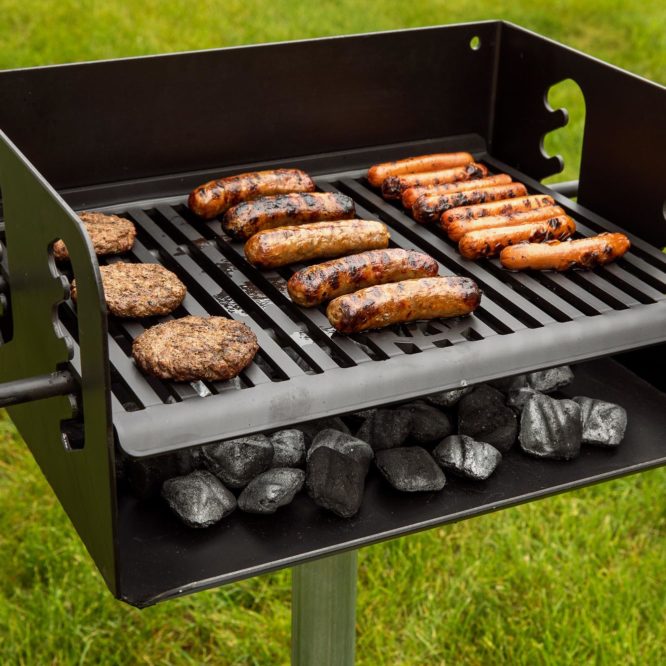 HEAVY-DUTY DESIGN
The SB16 is constructed with a continuous weld, making it remarkably sturdy and resistant to damage. The 300 square inch cooking grate is made with ½ inch steel bars that won't chip or break. A formed ash lip provides extra reinforcement and helps keep coals in place in the 20 W x 15 D x 10 H inch firebox.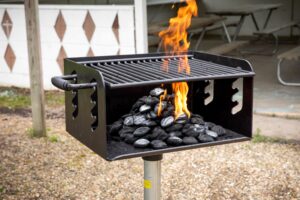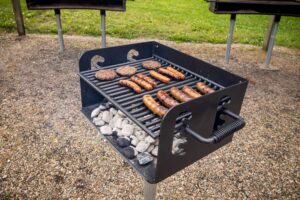 HEAT-RESISTANT COATING
Our thick, non-toxic black enamel paint finish is heat-resistant up to 1100 degrees F. Whether you choose an enamel painted finish or a hot dip galvanized finish firebox, our grills are built to stand up to the elements and resist rust, which allows our grills to last for years to come vs other brands.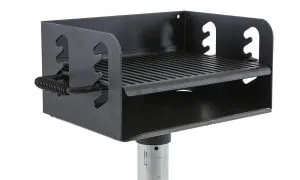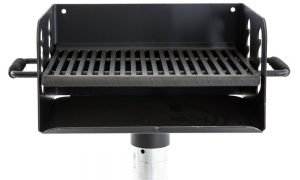 ADA COMPLIANT MODEL
Our most popular charcoal grill offers an ADA compliant model. With a cooking grate that pivots 180 degrees, it is safer and easier to reposition the grate from the firebox using only one hand with little force required. The rotating cooking grate allows the user to access the firebox to build a fire or access the grate to transfer food.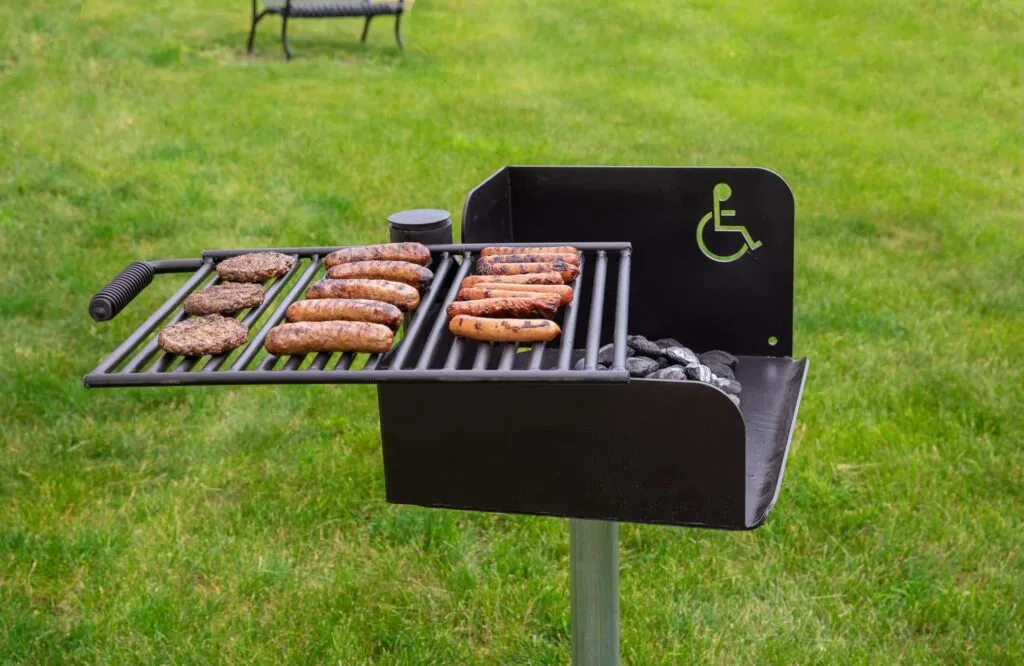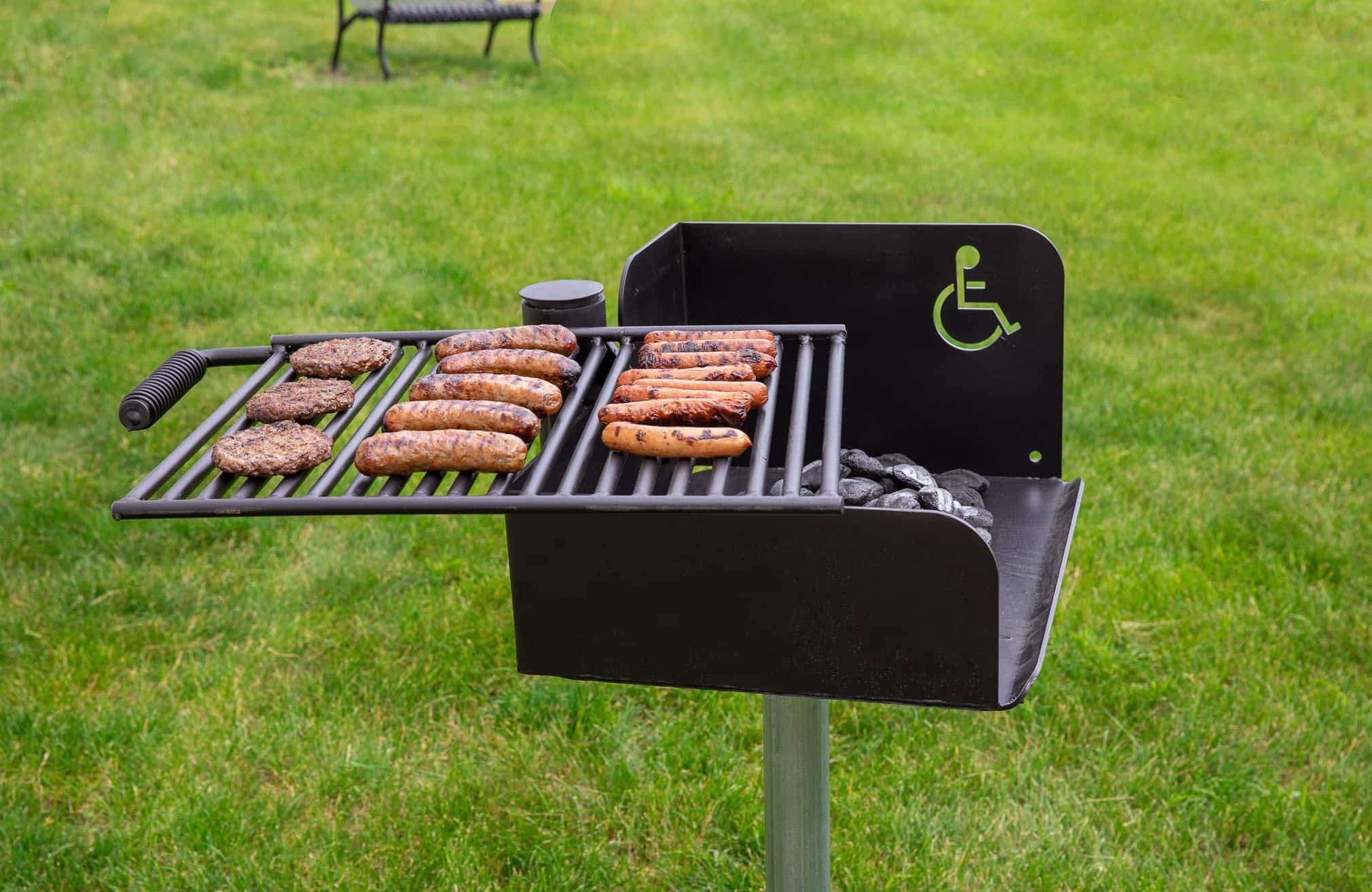 CLEVER FEATURES
Grips that stay cool allow for easy, safe grate height adjustments, and temperature control. The grate and pedestal are permanently affixed to the grill box so they won't disappear from public spaces, making it our most vandal-resistant pedestal grill!
Other clever features include:
360-degree firebox rotation to adjust for wind direction.
A formed ash lip retains hot coals in the firebox for user safety.
Surface mount or in-ground mount options to fit any landscape.
Rounded corners to help prevent injury.
Drain holes in the firebox to keep water from pooling.
Pedestals offered in two sizes:
2 3/8" or 3 1/2" outside diameter.
WHAT CUSTOMERS ARE SAYING
Customers began requesting tent rentals for various events, so DeCoster added those to his inventory. The company entered the bleacher rental business about 14 years ago. "It can get very busy during the political campaign season," he said. "That business has really matured nicely. "We do a lot of annual events, such as out at…
read more
Kay Park-Rec has been Adventureland Resort's go to supplier for a wide variety of products for decades. Their high quality and right priced lines for any project are only matched by an extremely friendly and knowledgeable staff. Adventureland is proud to consider Kay Park-Rec a partner in providing our guests a great experience.
After years of using cheaper, more popular models that consistently broke and required replacement parts, we bit the bullet and got a fleet of Kay's 4 seat pedal boats. It has been the best investment we've made at our waterfront, ever.  The Kay Pedal boats are indestructible floating army tanks of fun, and they even…
FREE DOWNLOADABLE SPEC SHEETS